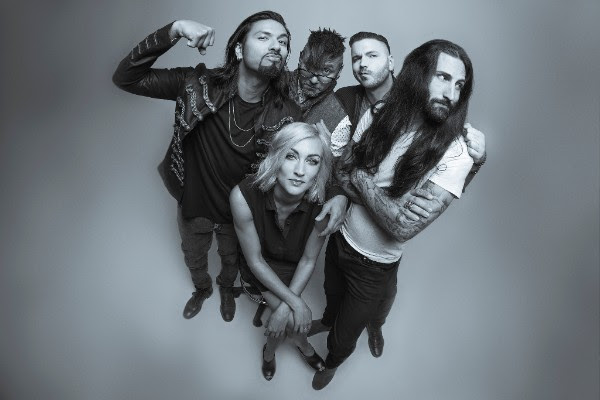 With several massive tours and rock festivals under their belt, Pop Evil is ready to take the lead and headline their own tour. On Tuesday (Oct. 18), the Michigan-founded band announced plans to headline their own tour in 2017. The tour which has been named the "ROCK 'N' ROLL NOW TOUR: RIGHT NOW," will kick off on Jan. 10, 2017 at the Mercury Ballroom in Louisville, KY and wrap up a month and a half later on Feb. 24, 2017 at the Fillmore Detroit in the group's home state of Michigan.
"What an exciting time to announce a full headline tour across the states as we launch our final single off UP, 'If Only For Now,'" begins frontman Leigh Kakaty in a press release. "It's no secret, as a 'Rock' musician this is a very difficult era to survive in. That's why we take it very seriously to appreciate what is happening RIGHT NOW by living in the moment. We are not taking success for granted and will continue to waive the Rock 'n' Roll Flag! It's time for the ROCK community to come together to spread the awareness that rock and roll's a force to be reckoned with. Come join us this January as we embark on our Rock 'N' Roll quest across the states on the ROCK 'N' ROLL NOW TOUR: RIGHT NOW!"
Red Sun Rising and Badflower will join Pop Evil during the early-2017 excursion. Those who wish to purchase tickets to the show can currently do so here using the pre-sale password, "BLABBERMOUTH." All Ticketmaster service fees will be reduced to $0.99 beginning today until Monday, Oct. 24, at 9:59 a.m. local time. After that, the normal Ticketmaster service fees will resume.  The official poster and full list of tour dates can be seen below.
The "ROCK 'N' ROLL NOW TOUR: RIGHT NOW" trek is in support of the group's recently release record, 2015's UP. The album, the band's fourth studio record, earned the number one spot on Billboard's Indie Chart and received a lot of accolades from critics.