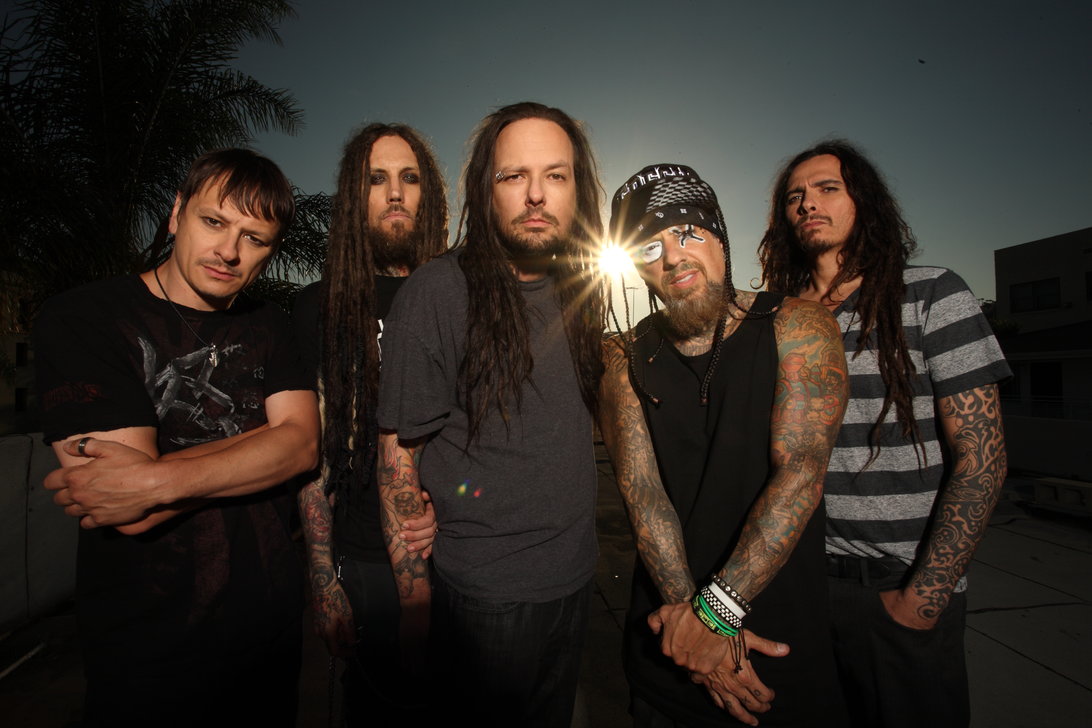 Korn has been celebrating their debut album's 20th anniversary for a year now, but that's not stopping them from continuing on. After the first leg of the tour was met with a lot of critical acclaim, the group have decided to bring it down a notch and perform in smaller, more intimate venues.
Today, they revealed that they will be closing out the 2015 touring season with a month's long trek by performing at intimate venues during the month of October. The setting change isn't the only thing the "nu metal" band are changing up. During this run, the group will perform their Ross Robinson-produced self-titled album, which was released in May of 1994, in full as well as throwing in some other tracks on the set list for good measure. According to a press statement, Korn will allow fans to request what songs they play during their encore.
For those looking forward to the show, there will be a limited amount of tickets and early entry packages available for purchase on Korn's website beginning tomorrow, July 22 at 10 a.m. PT. Regular tickets will go on sale beginning this Friday, July 24, at 10 a.m. local time.
The tour is scheduled to begin on Oct. 1 at Chicago's Aragon Ballroom and then wrap up on Oct. 30 at the Fox Theater in Oakland, CA. Suicide Silence and Islander will act as supporting acts for the month-long trip.
The complete list of tour dates can be seen below.
KORN'S 20th ANNIVERSARY TOUR DATES:
10/01 – Chicago, IL @ Aragon Ballroom
10/02 – Milwaukee, WI @ Eagles Ballroom
10/03 – Detroit, MI @ The Fillmore
10/05 – New York, NY @ Irving Plaza
10/06 – Montclair, NJ @ The Wellmont Theater
10/08 – Boston, MA @ House of Blues
10/09 – Silver Spring, MD @ The Fillmore
10/10 – Philadelphia, PA @ Rock Allegiance
10/12 – Charlotte, NC @ The Fillmore
10/14 – Atlanta, GA @ Tabernacle
10/15 – Orlando, FL @ Hard Rock Live
10/16 – Miami Beach, FL @ The Fillmore Miami Beach
10/18 – New Orleans, LA @ Bold Sphere Music at Champions Square
10/19 – Austin, TX @ Stubb's
10/20 – Dallas, TX @ South Side Ballroom
10/22 – Tempe, AZ @ The Marquee
10/23 – Las Vegas, NV @ House of Blues
10/24 – San Bernardino, CA @ Knotfest
10/27 – Denver, CO @ The Fillmore
10/28 – Salt Lake City, UT @ The Great SaltAir
10/30 – Oakland, CA @ The Fox Theater